Kyrie Irving Reveals His Ball-Handling Secrets: "I Have Counters to Every Move"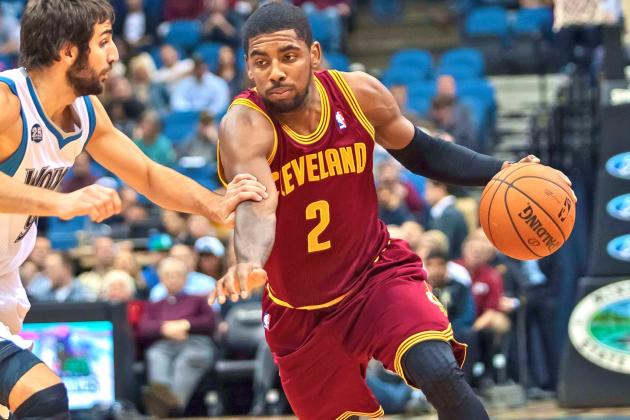 It has arguably been the best ball-handling sequence of the early NBA season: As captured in a YouTube video (http://www.youtube.com/watch?v=tab7Pi807gU) that's gotten more than 180,000 views since the play happened on Saturday night, Cleveland Cavaliers point guard Kyrie Irving shakes Washington Wizards guard Glen Rice Jr. with not one, not two, but four behind-the-back, stop-on-the-dime dribbles—and then crosses over another defender to drive in for a floating layup. 
As Irving told Bleacher Report this week, "I have counters to every move that I do."  "What I want (fans) to realize is that when I make a move, it's really a simple move," he said. "It's just done with pace, and it's done off a counter of something. I only do those moves when someone kind of puts me in that position. When someone makes me feel uncomfortable, I'll always have a change of pace or have a change of direction to kind of keep them off balance. They can only guess, so you're in control. That's what offensive guys need to remember."
Irving said he first realized he had a special handle when he was in eighth grade growing up in West Orange, N.J., after spending years working with his father, Drederick, who was a hoops star at Boston University and once had a tryout with the Boston Celtics. Drederick told his son early on, "Just don't let basketball use you; use basketball. Never be complacent about where you are. There's always room to grow no matter how successful you are."
Drederick also stressed to Irving the importance of working out by himself to learn discipline and sacrifice. From there, the now-21-year-old utilized his imagination to teach himself multiple combination moves with the basketball to prepare for different defensive scenarios—sometimes even practicing until midnight because he knew his peers on the West Coast were still up putting in work.
"Everybody always asks, 'What did you do as a kid to get your handle like this?'" Irving said. "And I tell them, 'I just practiced simple moves first—like crossovers, between the legs, behind the back—and then I would work on combinations in isolation situations by myself. Then I would have counters to every move, always being prepared for that—not only that second move, but that third, fourth, fifth move just in case.
"You always want to have those just-in-case moves in your repertoire. You want to keep the defense guessing. I don't want guys to know this is the move I'm going to do right now just because they watched it on film. If he knows what move I'm going to do, I'm going to have about two, three counters to it. That's kind of how I practiced it."
Even though Irving became a self-made ball-handling artist at St. Patrick High School (Elizabeth, N.J.) and then at Duke, he had the drive to perfect his craft with professional assistance entering the NBA in 2011. After he was drafted No. 1 by the Cavaliers, he sought out Raleigh-based renowned trainer Micah Lancaster, who has 30 gym locations across the country and has worked with more than 15 NBA players, including Dwyane Wade and Evan Turner.
Irving met Lancaster through being at Duke and thought that his philosophy—"making training harder than the game, and over-exaggerating the pressure and the chaos while still keeping it very real to the game"—would help him adjust better to the NBA's high intensity level.  Exclusive Workout Video:  http://www.youtube.com/watch?v=ssk5AOaEUQI
"With Kyrie, he was always so talented," Lancaster said, "so for him I just wanted to challenge him to be a little bit more ambidextrous with not only his dribble, but how he protects the ball with his hands—getting his off hand even more active—so he could swat away hands like flies while he's handling the basketball. That's always a big focus of mine. And we focused a lot on his feet, just trying to make the translation from the college game to the pro game with a little bit more footwork, and focus on some of his moves."
Lancaster said during the drills, Irving would make some mistakes and fumble the ball—common for other players he's worked with in the same situations. But Lancaster, who spent time with Irving last summer as well, said what separated Irving was "how quickly he picks things up."
"As we continued to train, I had to do more and more to try to challenge him," he said. "He's a tough person to challenge with his ball-handling because he masters something so quickly that I have to go back into my toolbox and try to make him mess up again. So with him, it's really entertaining to work with him because he makes me just come up with more and more ways to challenge him. He can be comfortable in otherwise very, very uncomfortable situations."
Lancaster said Irving was also challenged with going and stopping quickly on a dime, especially important at the NBA level where spacing and just inches of room to make plays mean everything. But in just one initial workout back in 2011, the point guard mastered going from the highest level of speed to a sudden stop to then a fast, effective move.
"He was always really good at changing paces, but the one area that we really focused on for hours was just stopping during one workout," Lancaster said. "That was actually pretty challenging for him that day. Now he's able to just really slam on his brakes. A lot of times, players have to kind of go from 60 miles per hour to 40 to 20 to 10 to 0. But after one workout, he was able to go from 60 to 0. I think that's what really separates him; not only his hands, but his feet are incredible to the point where he can literally stop like a running back and change directions."
Regarding Irving's footwork, Lancaster said it's been "the most important thing" that has enabled him to excel in the post, where the 6'3″ All-Star occasionally operates and has size on many point guards.
"He's good with his feet once he's in the paint—from back pivots, to step throughs, to step arounds," Lancaster said. "And once a player is comfortable in the paint, it's easy to post up. It's his feet that make him so special once he's established himself there."
Overall, Lancaster compared Irving's ability to change directions to one of the greatest NFL running backs ever, Barry Sanders. Lancaster said while many basketball players need to create space, Irving knows how to keep his space and use the area around him, no matter how small, to pull off a dribbling move to keep his defender at bay.
"I think that's what makes him extremely special," Lancaster said.
While Lancaster couldn't pinpoint Irving's best go-to move, citing his versatility, Irving said it's "anything out of the in-and-out dribble with both hands." He also said any basketball tricks he has thought of, he has practiced and can do in a game.
Looking ahead, Irving is still trying to perfect moves in his mid-range game.
"Like my floater, the in-between spot where you have a decision to make," he said. "I would say that, just making that decision, making that read, like I don't always have to go in and try to get a foul or anything like that. I can easily shoot a floater over a big man. That's the big-man killer right there."
This past summer, Irving trained mostly individually, playing in more pickup games and challenging himself with fine-tuning his own moves. Lancaster said he was glad to see Irving ride solo training-wise, which he wanted to happen so it would emphasize a positive progression in his development.
"Once he gets to this skill point, he can kind of handle it on his own," Lancaster said.
A key focus for Irving in the summer was becoming more efficient with his ball-handling; in other words, reducing the amount of dribbles when making an attack move on a defender.
"I was healthy the whole offseason, so it was more about just being more efficient and saving that energy instead of going between my legs three times to get a shot," Irving said. "Instead, going between my legs once and getting to a spot and raising up and shooting. Now, it's about finding my spots on the floor and just being more efficient. I can use those moves, but only use them when I have to."
With the season underway, Irving is making another adjustment that relates to his ball-handling: being positioned more off the ball in the offense with Dion Waiters and new Cavalier Jarrett Jack both spending more time at point guard. A key alteration for Irving as a 2-guard has been utilizing fewer dribbles in screen sets to get his shot off quicker—another element of his attention to efficiency.
Irving, who's averaging 21.8 points, 6.9 assists and 3.7 rebounds per game, discussed the differences between playing the 1 and 2, saying both are beneficial because of his ball-handling and scoring ability.
"When I'm playing the 1-guard, teams do a great job of just loading up and preparing for my drives and preparing for my three-point shots," he said. "Teams are giving me different looks this year, and when I'm off the ball, it gives me a chance to come off screens and be off the ball and read the defense differently. When I'm playing the 1-guard, I'm kind of seeing everything that's going on. When I play the 2, I have a more broader understanding of what's going on and where the screens are being set in order for not only myself to get open, but for my teammates.
That learning curve is reflected in the Cavaliers' rocky 4-8 start. But Irving said the guys need to "believe" in coach Mike Brown's game plan and "trust one another and keep on fighting for everybody."
"For us, we're dealing with a lot of newness with our team," he said. "We're not trying to make excuses or have anybody feel bad for us. Some teams are playing better than others, but right now internally, we're just figuring things out and what's going to make us a successful team going forward. We're just getting used to each other every single game, and that's what's going to make this right.
That success, of course, all starts with the continued growth of Irving, who's deceptive and carefully planned ball-handling sequences are the engine of the Cavaliers offense.